07 Dec 2022
Careers & Culture
3 min read
Adaptable retreat 2022 — Barcelona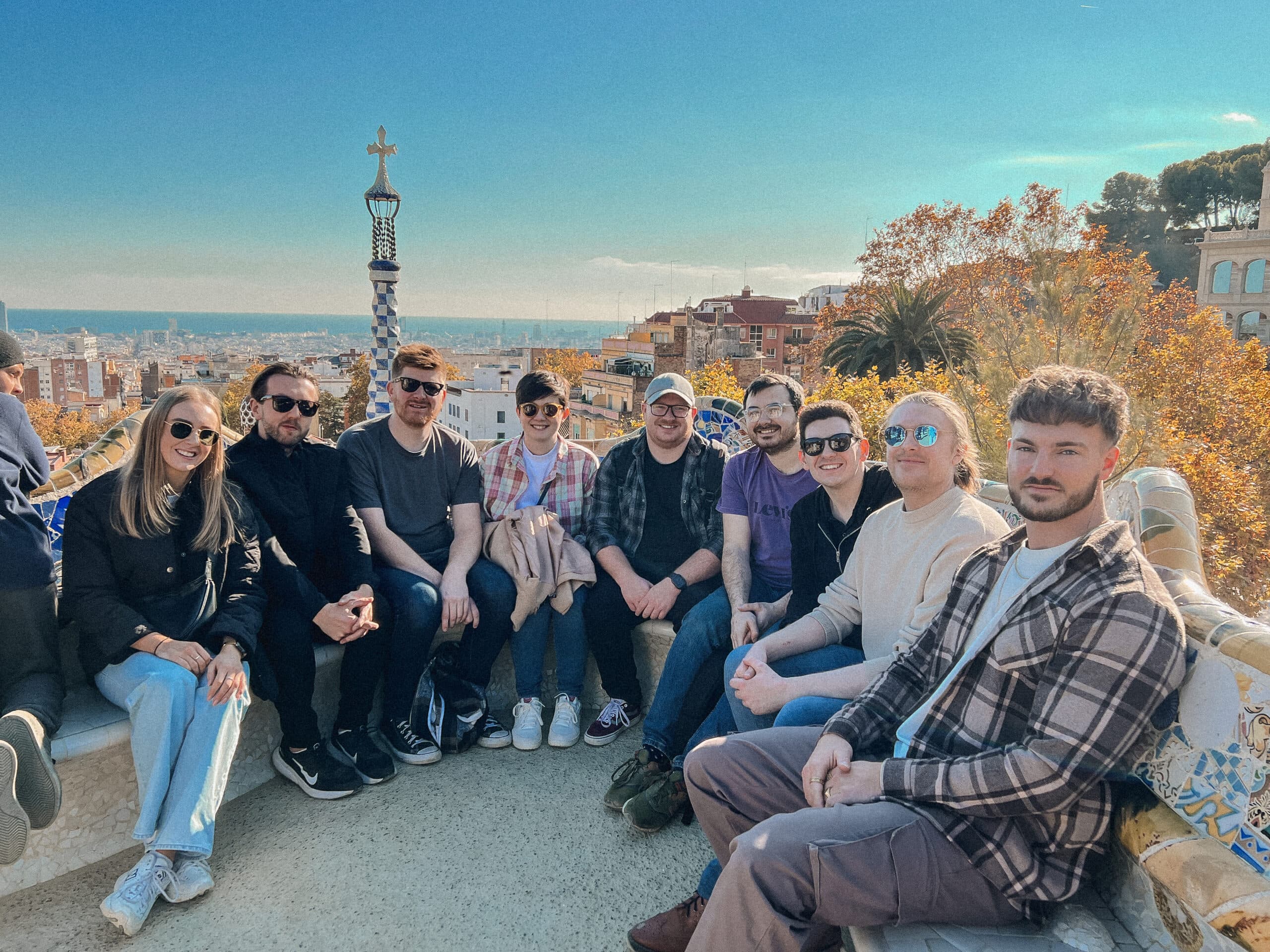 Every year (except for 2020 and 2021 thanks to COVID) we take the Adaptable team off for a long weekend in a European city – it's an opportunity to unwind, reflect on a successful year and bring the team closer together.
Barcelona was our destination this year, and while we were sadly missing a member of our team, it was a fantastic weekend of laughter, culture, food and maybe a few late nights.
We thought we'd share just a few of the highlights from our 48 hours (ish) in beautiful Barcelona. And if you want to feel like you were there with us – check out our recap reel below.
Park Guell
A decent walk from our hotel (a few of us racked up 25,000+ steps on Saturday) but well worth it for unbeatable views of the city and the distinctive Gaudi architecture. We didn't mind the walking either as we were incredibly lucky with the weather, getting glorious sunshine and unseasonable 14 degree temperatures.
The rooftop bar at Hotel El Palace
In search of a rooftop bar for those sunset views Instagrammers dream of, we ended up at a hotel right out of Home Alone 2 ("down the hall to the left"). Although the sunset alluded us and the clouds appeared, despite clear skies all day, it was nice to have a quiet drink to rest our aching legs and get some pretty decent views.
Tapas at Cituat Condal
A great find for affordable and sizable tapas portions. We were amazed to swan in without a booking and grab a table for nine – and we all filled our boots with squid, octopus, chicken and ham croquettes, and more patatas bravas than you can shake a stick at.
Pastisseria Hofmann
With a handful of us nursing hangovers from Saturday night, we headed out again, this time in search of the delicacies at Hofman Bakery, including a rumoured 25 Euro giant cream-filled croissant. While no one opted for the big one, we got to peruse some very good looking pastries and cakes and pick up a few delights which we enjoyed on the beach.
"El Petó" de Joan Foncuberta – "The Kiss" mural
The full title of the mural is "El món neix en cada petó" ("The world is born in every kiss") and is made up of photos sent to the artist about "freedom". Make sure you get up close and try to find the weirdest photos. The area around the mural is worth an explore too – narrow winding streets, quirky shops and traditional churros.
Check out our recap reel 🎥