2013 - 2023
A look back at our journey so far...
"We've made it. The big 1-0. As Adaptable enters double figures, we've no intention of slowing down. Our team is growing, our expertise is evolving, and we're working with bigger brands on more diverse and exciting projects."
Dan & Olly
Co-Founders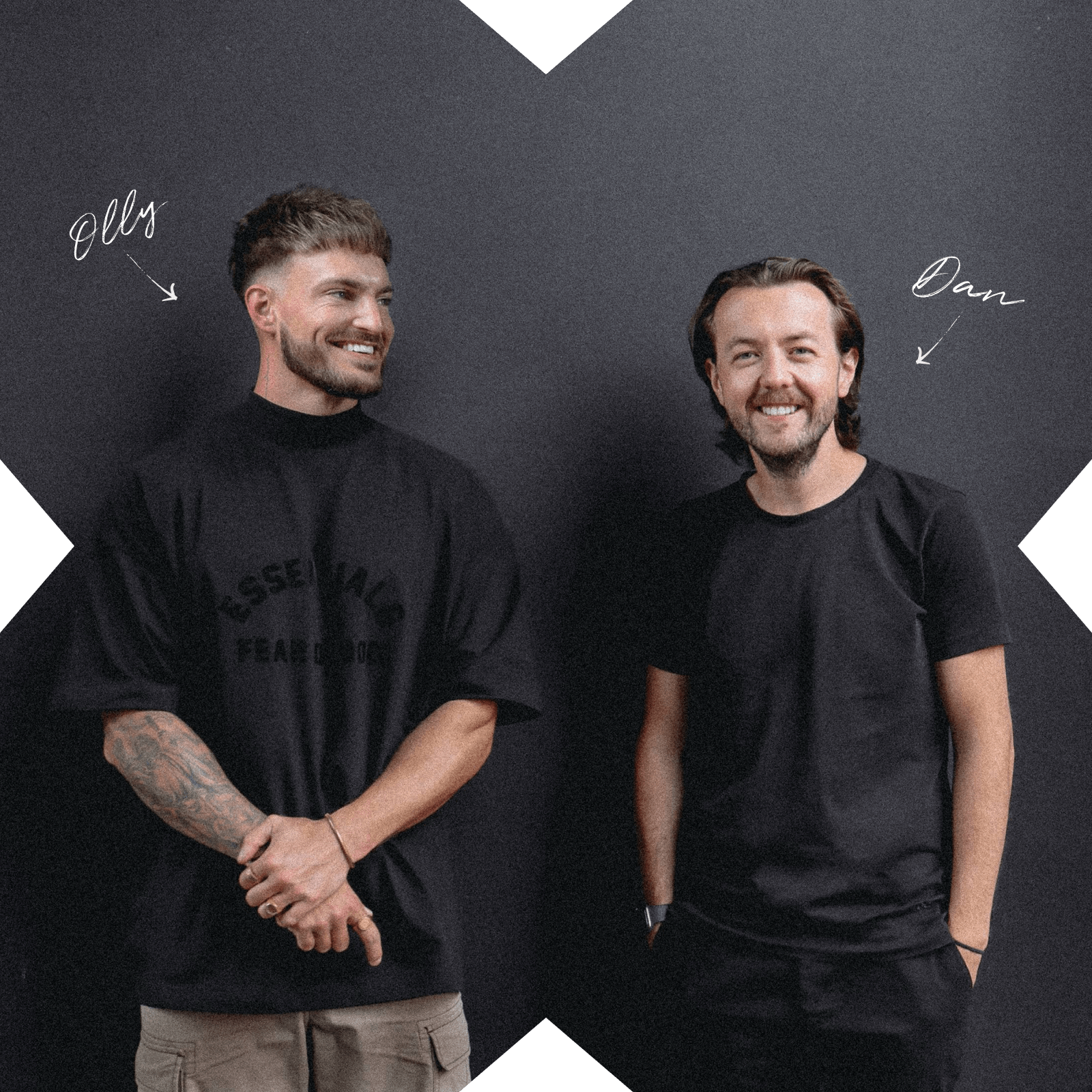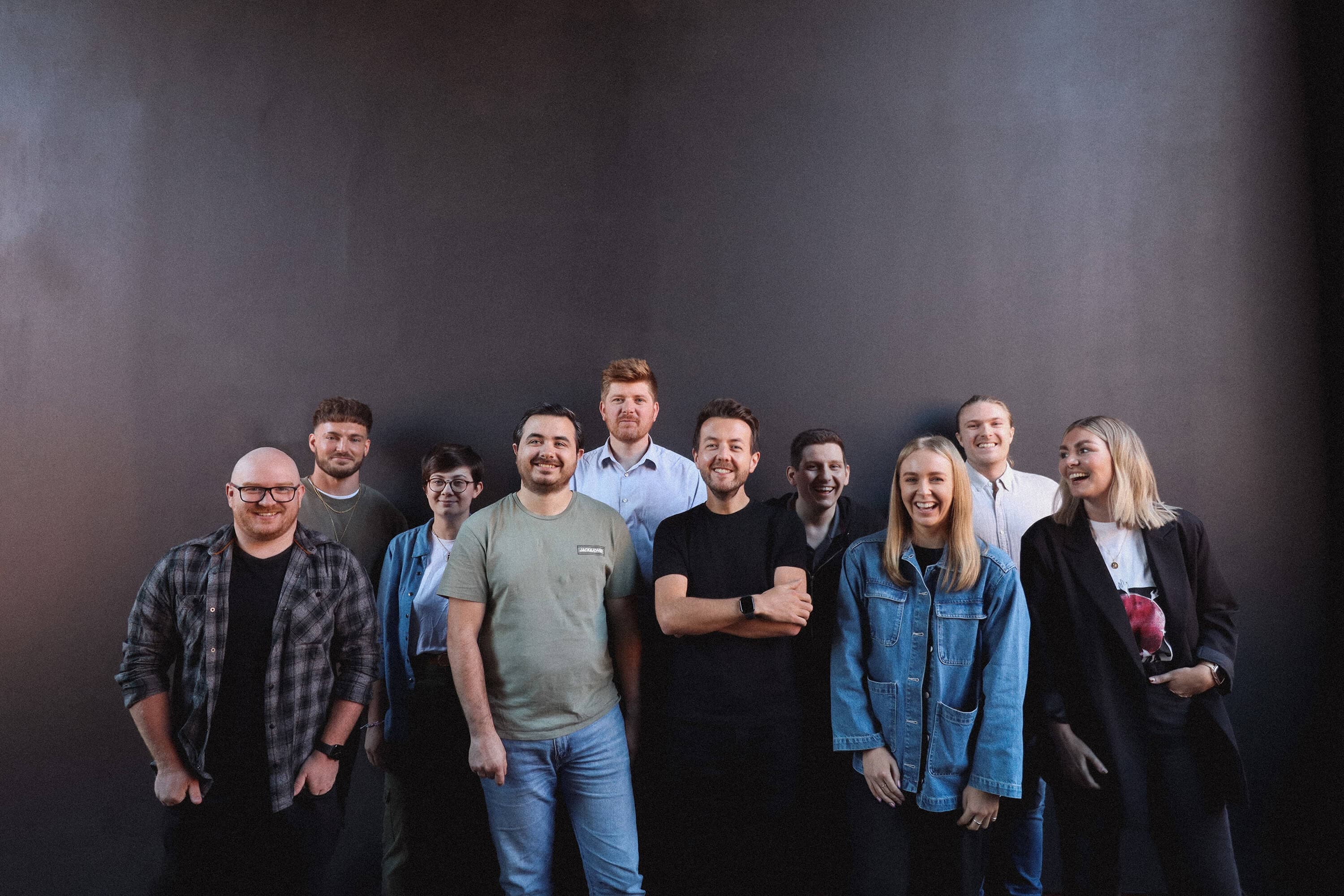 2013
May 2013, to be exact. Two friends about to graduate from Birmingham City University with the shared goal of starting their own digital agency decided to embark on a joint venture.

The idea for Adaptable was born. 💡
When you get knocked down...
In their final month of uni, Dan and Olly pitched their business plan to the Deutsche Bank Awards for Creative Enterprises with the aim of securing startup funding and were delighted to come... runners up.

But all was not lost...
Finding our feet
After picking up their first client at their end-of-year exhibition, Dan and Olly took the plunge and set up in a startup space in Floodgate Street, Birmingham with a couple of iMacs, an IKEA bookcase and 500 unnecessary business cards.
weareadaptable.com
Pushing their limited WordPress skills to the max, the founders established our digital footprint with our first studio site. Don't worry – Dan and Olly don't go anywhere near a line of code now!
Our first client
Our very first project was an international one - coming from across the pond. We were tasked with designing a new logo and website for Seattle-based architect BakkenDB.
Hey, Luke!
We welcomed our very first hire Luke, and began building our development team!
2014
Our first studio
With our team and client base growing, we said goodbye to our startup space in Floodgate Street and hello to 301, our first studio!
A digital company to watch..
Adaptable are featured in the Birmingham Post as one of their "digital companies to watch".
P&Co.
Our first e-commerce project for growing independent clothing and lifestyle company P&Co. They're now killing it as an established global brand.
Site of the day
We relaunched our studio site and won our first Awwwards "Site of the Day". 🏆
Nitenite City Hotels
We delivered the website and online booking experience for Nitenite City hotels - a new pod style hotel experience launched in Birmingham.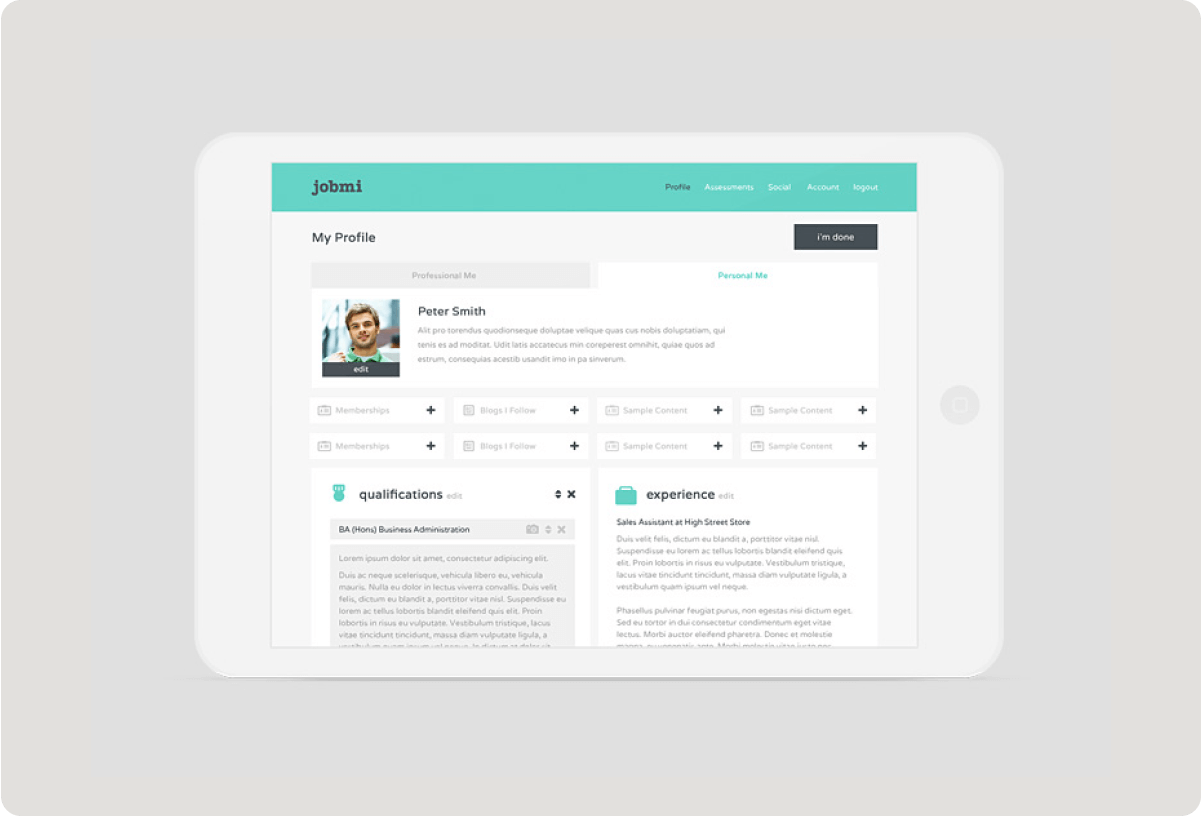 Our first digital product
We launched our first digital product - Jobmi, a platform for connecting students with employers from talent acquisition specialists Cappfinity.
Retail Birmingham
Birmingham Business Improvement District appointed us to deliver a new website and supporting marketing collateral for their Retail Birmingham initiative.
TEDxBrum
We were part of a group of volunteers who helped to launch the website for TEDxBrum 2014 - bringing the global thought leadership events to the Midlands.
2015
Studio 2.0
As we start to gain some traction and really establish ourselves as a go-to Birmingham design and development agency, we move to a new studio in the Custard Factory.
Juuce
We worked with electric vehicle startup Juuce (now EO Charging) on brand development, app concepts and an investment deck to help them secure funding. Their impressive credentials now include powering the electric vehicle fleet for the likes of Amazon.
Returning to BCU
Dan and Olly returned to Birmingham City University to support students studying on their former course with a series of hands-on support and sessions on digital. It proved to be a fantastic experience in helping to nurture future digital talent.

Dr. Martens
We worked with Dr. Martens to design their Heritage and European Tour microsite. We also pitched for the main e-commerce site but it wasn't meant to be - maybe we got too big for our boots? 🙈
Site of the day - again!
*Channels inner DJ Khaled* Another one! Our third studio site wins Awwwards "Site of the Day".
Style Birmingham Live
Continuing our successful partnership with the Birmingham Business Improvement District, we helped them launch the website for Style Birmingham Live, as part of the Birmingham Weekender Festival.
Klick
We launch the first in a series of free events and meetups - "Klick" - inviting design and dev professionals from across the Midlands to talk about their craft.
The Old Crown
We undertook brand development for the oldest inn in Birmingham, located just over the road from our studio at the time in Digbeth. They still use this identity today!
BHX > DUB 🇮🇪
Our first studio retreat took us to Dublin for a weekend of sightseeing and many pints of Guinness.
2016
National Express
We landed a project with National Express, overhauling the user interface and booking experience on their main website.
Our story so far
Dan is invited to share Adaptable's startup story at Glug Birmingham, now known as Gather. Oh, and we hit 10,000 followers on Instagram. 📸
Nespresso
Global coffee giants Nespresso invite Adaptable to their HQ to hear how we could elevate their website for consumers. This unfortunately didn't go any further, but it was a great experience for the team.
Hey, Ethan!
Welcome Ethan, our second hire as we start to build out our development team!
Intelligent Change
Intelligent Change, the team behind the Five Minute Journal and Productivity Planners hires Adaptable for their new e-commerce website.
Stone Group
One of the UK's leading technology resellers work with us to launch a bold redesign of their corporate site, repositioning themselves as innovators in the sector.
Launching our
discovery service
Already using the methodology in our projects, we formally launched discovery as a service, enabling us to better establish our process for helping clients unlock their digital strategy.
New studio site
Updating our studio site is becoming an annual occurrence - we always like to keep to fresh and up to date in order to showcase our best work.
2017
New studio
We relocate to our current (for now) home in the Jewellery Quarter - at 7c Frederick Street, in the former Victorian pen factory "Victoria Works".
New studio site
We launched a refreshed studio brand and website to showcase our 'disruptive digital' offering
Hey, Josh!
We continue expanding our development team by bringing in Josh - who'll later go on to lead our engineering team.
BHX > LIS 🇵🇹
Our second Adaptable team retreat takes us to Lisbon, Portugal, navigating the hilly streets of Alfama and scoffing on pastel de natas.
2018
As we turned 5, 2018 was a big year. We saw lots of important project wins and the start of some significant partnerships that are still in place today, across sectors that would become a major focus for us: property and charity. 
St. Philips Homes
We worked with St Philips Group to launch their Homes brand and website as well as their Land website. The partnership is still going strong 5 years later, and St Philips are now a major developer and land promoter.
Mayhew
Website and donation funnel for animal welfare charity Mayhew. The website wins Good Web Guide's Charity Website of the Year. 🙌
Shopping in
Birmingham
We help to launch Shopping in Birmingham - a website promoting the city's extensive retail and leisure offering.
New studio site
You guessed it.. another one! We launch another studio site, and it officially becomes tradition that we launch a new site each year! We continue to see it as an investment and we're always adapting it (😉) to best reflect who we are.
BHX > ALC 🇪🇸
Our third Adaptable retreat takes us to sunny Alicante - tapas, sangria, and incredible seaside views!
Centrick
We launch a new website for Birmingham-based property specialists Centrick. The partnership is still going strong!






2019
Davidson Homes
We begin our long-standing and successful partnership with American homebuilder Davidson Homes by launching their new property search website.
Mailbox
Mailbox Birmingham partners with us to launch their website and customer rewards scheme.
Hey, Dan W!
We welcome Dan to our engineering team, and he's affectionately known as "Dan 2".
Liberty Steel
Global steel magnates Liberty hires Adaptable to unify all of their sites into one global digital proposition.
Award-winning
Our project with Mayhew wins "Outstanding Website Re-design" in the global .Org Impact Awards
BHX > DUS 🇩🇪
Our 2019 retreat took the team to Düsseldorf, Germany for a weekend of laughs, currywurst, altbier and electric scooters! Little did we know it would be the last for a while...
2020
2020. A quiet one for global events (ahem). Amidst a turbulent time and period of uncertainty for everyone, both personally and professionally, we were so grateful to become busier than ever. We saw major demand for digital services as our clients pivoted their offerings with more of an emphasis on online due to lockdown.
Studio > Home
Like most of the UK, we were now working from home thanks to a certain global pandemic. Spending every minute in tracksuit bottoms and contemplating how early you can crack open the first drink (and can you get away with drinking it on Zoom?)
Hey, Hev!
We expand our design team and welcome Heather ("Hev") as Digital Designer!
Givable
We launch our own digital product Givable - a complete fundraising solutions for charities that provides a quick and easy way to market.
Boss at Home
We launch an e-commerce website for Boss at Home - a direct to consumer retail offering from B2B commercial furniture supplier Boss Design.
Hey, Faye!
We welcome Faye to the team to the whip the studio into shape and get us all organised as Digital Project Manager.
Proplist
We develop a bold brand identity for fast-growing commercial property portal Proplist.
Spacemade
We design and build a base website for flexible workspace venture Spacemade - giving them a consistent platform to use across their spaces. The first to launch is The Loft - a modern workspace in North West London.
7 Years Strong 💪
We made it through the first lockdown and managed to be together in the studio to celebrate the 7 year milestone. A significant one considering we'd just been through a turbulent time!
2021
Spitfire Homes
We begin our partnership with premium homebuilder Spitfire Homes - relaunching their showcase and property search website after their rebrand.
BBC Radio Feature
Dan appears on BBC Radio West Midlands to talk about the benefits of hybrid working and our changing approach to how we do business since the pandemic
That time again...
Yep, ANOTHER new studio site! This one miraculously stayed in place for another 2 years, with only slight tweaks in between.
Tiviti
We launch a major update to our long-term partner Tiviti's self service portal - a complex digital product bringing value to customers of their connectivity-as-a-service offering.

Hey, Tom!
We welcome Tom to our engineering team, and immediately our number of custom emojis on Slack triples.
Makeroom
We work with independent print company RoomFifty to launch their new startup - a digital product that helps artists sell and fulfil their work directly from their own websites.
RAF Central Fund
We partner with the RAF Central Fund to launch their independent charity website, giving them a better way to showcase their impact.
2022
PHMG
We partner with global leaders in audio branding PHMG to launch their main website, corporate microsite and customer portal.
Leukaemia UK
We begin a partnership with leading blood cancer charity Leukaemia UK to launch their new website, including a digital giving experience and user-generated fundraising product.
Hey, Adam!
We continue to grow our engineering team, welcoming Adam.
PM Connect
We work with long-term partners PM Connect to refresh their branding and relaunch their corporate site.
Whitworth Bros.
We launch a new digital experience and corporate website for a world leader in flour milling.
Hey, Charli!
Charli joins the team as Marketing Manager, our next step in increasing our reach and awareness of our offering.
Davidson Homes Headless website
Working with our partners Davidson Homes, we relaunch their property search website in a headless environment, powered by Sanity CMS - supercharging their performance and giving them more flexibility to work with high volumes of property data.
BHX > BCN 🇪🇸
We happily resume our annual team retreats post-COVID with a trip to the lovely Barcelona.
2023
We've made it. The big 1-0. As Adaptable enters double figures, we've no intention of slowing down. Our team is growing, our expertise is evolving. We're working with bigger brands on more diverse and exciting projects.
The Autism Service
We begin our partnership with a private autism assessment service, launching a new website to reflect their nationwide reach.
Hey, Olyy!
We continue our apparent tradition of only hiring people named Dan or Olly, welcoming Olyy to our engineering team! Thank god for that extra "Y", otherwise it'd really get confusing...
New look
After 10 years in business, we decide to launch a bold new look and a studio site to match. Who knows, this one might last a few years (with tweaks of course)!
Outdoor Inns
We launch a headless booking experience for an exciting startup offering eco-friendly log cabins at rural pub locations across the UK.
Karl Tatler
We launch a headless website with powerful property search and custom Reapit integration for the Wirral's leading estate agent.
Elta Group
We begin a partnership with international leaders in air movement and ventilation Elta Group, managing their digital ecosystems across multiple geographies.
Hey, Elicia!
We welcome our newest team member, Elicia, joining as our new Digital Project Manager.
New studio pending...
Our new location is pending! After 8 happy years at Victoria Works, we're moving to a new studio better equipped for our growing team.
We're on track for another consecutive year of positive growth, with exciting projects & partnerships in the pipeline.

Oh, and we're moving to a new studio better equipped for our growing team & hybrid working.

Bring on the next 10!