21 Jun 2023
Digital Products
10 min read
Discovery sprints: a complete guide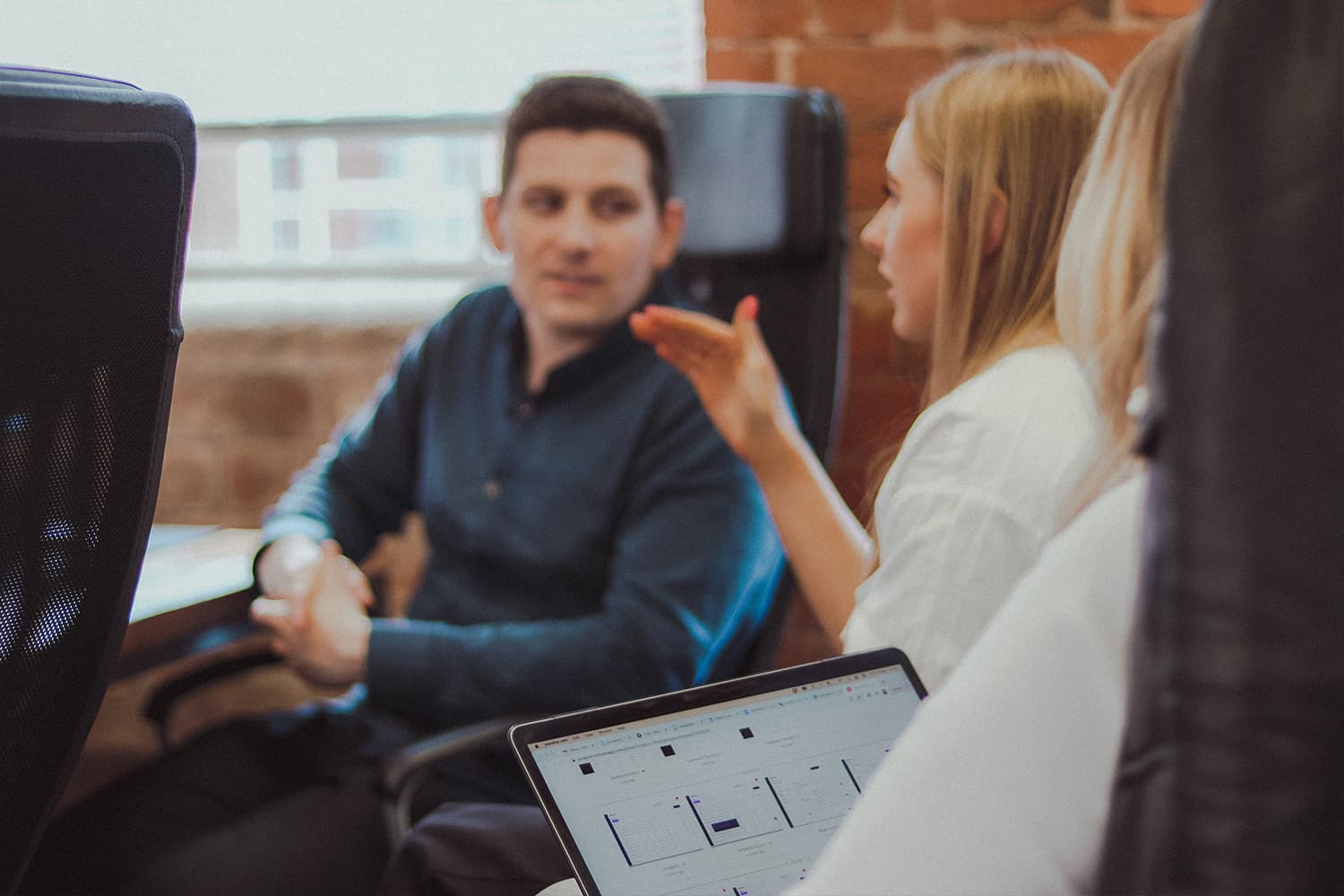 Our mantra is "build the right thing, and build it in the right way". When we approach a digital project, from a (relatively) simple WordPress website to a fully-fledged customer portal with complex integrations, we need to get to the bottom of what you want to achieve and what it is you need to do to get there.
The bottom line is – you don't really know what the right thing or the right way is until you've gone through a discovery sprint. Through this process, you'll uncover vital insight into your organisation's key challenges and needs around digital, what this means for your users, and actions you need to take to move forward.
In this guide to discovery sprints, we'll cover:
The definition of a discovery sprint
The benefits of completing a discovery sprint
Details of the process and what to expect from your discovery sprint
The deliverables you'll get from a discovery sprint
What is a discovery sprint?
A discovery sprint is a focused period of research and discussion that sets up a digital project.
Our mantra is "build the right thing, and build it in the right way". From a (relatively) simple WordPress website with a fully-fledged customer portal with complex integrations, we need to get to the bottom of what you want to achieve and what it is you need to get there. You don't know what the right thing or the right way is until you've gone through a discovery phase. Post discovery, you'll still be finding things out and adapting along the way too.
Product management coach Tim Herbig describes product discovery as "the iterative process of reducing uncertainty around a problem or idea to make sure that the right product gets built for the right audience".
Whether you have an existing brief or not, a discovery sprint is a highly valuable way to ensure you get the right digital product foundations built in the right way for you and your users.
THE BENEFITS OF COMPLETING A DISCOVERY SPRINT
We see the discovery phase as the most important part of a digital project. And the numbers don't lie. 83% of UX practitioners who undertake a discovery phase go on to complete projects they report as successful.
Let's get into some more specific benefits of undertaking discovery.
Defining, refining and expanding your brief
Having a detailed website or digital product brief is a really helpful starting point for any website digital product, but it's not essential to have an extensive brief document going into a discovery sprint. These documents come in all shapes and sizes, with varying levels of detail on background and technical specifications and it's not uncommon for the partner who is provisionally developing the product to support with writing it. A discovery sprint can help you shape and write a brief for your website or digital product armed with all of the vital insight you'll need. Equally, it can help you to challenge the assumptions and any specifications in an existing brief to ensure you're looking to build the right product in the right way.
Challenging assumptions and perceptions
You and any stakeholders involved with your business or the project will naturally have preconceived notions and assumptions about your business, your audience, and even the kind of digital product you need. It's important to go through a process of challenging these assumptions – to protect yourself from wasting valuable time, budget and resources on a product which isn't right and isn't built in the right way. Challenging your thinking in this way can be difficult – that's likely a contributing factor as to why around 49% of digital projects end up suffering from scope creep. Managing this is important, but starting with ensuring you're embarking on building exactly the right thing also helps – and that's where discovery comes in.
Bringing knowledge and expertise to the table
We work with people leading on projects client-side with varying levels of technical knowledge and experience. Some marketing managers have a background in development, so they can frame the project in this way, whereas others are from a more strategic, creative, or content-led background. Depending on your experience, you may frame a digital project and the brief in a different way. One of the key benefits of working with a partner like Adpatable is that you get access to in-depth knowledge and experience around a wide range of technologies and frameworks. You'll no doubt be working with a product team who spend all day every day working with the latest technology and approaches. Things you may not have thought possible, or weren't sure you could achieve, may now be on the table. You may be able to find a more effective and efficient way to do something you previously thought would be a mammoth task. You may be able to automate something you thought would be manual. Having these conversations helps you cover off the second half of the digital product mantra – building the thing in the right way.
So, now we've covered some of the benefits of using discovery to shape your digital product or website brief in the early stages- what's actually involved, and what do you need to bring to the process?
Discovery sprint process: what to expect
Typically, our discovery sprints take around two weeks to complete from start to finish. This covers the following steps:
Workshop
On-site or video call workshop involving key stakeholders and project members from our side and yours. We use this time to define your key users, explore how they interact with you and how they will need to interact with you going forward.
Initial Site Architecture
Immediately following the workshop, we produce a top-level sitemap of user flows – essentially scoping out on a high level how each user will interact with and move through your website or digital product. We also begin developing questions to vet our collective assumptions around the project, and scoping out features and technical specifications.
Research, spec and findings
We then go away and conduct in-depth research into how we would approach your project. This includes technical approach, budget, timelines, and required investigation with any third-party apps, platforms or other agencies involved in the project.
What to bring to a discovery sprint
An existing website or digital product brief is very helpful in shaping discussions and providing a starting point. But as we've mentioned, it's not essential for a discovery process. Through discovery, you can refine an existing brief or shape one from the ground up. This key research phase gives you an opportunity to get everything on the table – who your users are, what they need to get from your digital product (or products) and how all this aligns with your wider business objectives. If you don't have this information, or need some help to tease it out and turn this into actions, then that's where partnering with the right digital studio comes in. They can help you to define all this within a proven process that directly informs a brief and a wider strategy.
The key thing to bring to a discovery sprint workshop as a client is honesty, openness and a willingness to work closely with an external team to challenge some key assumptions about your organisation. A digital product team will work with you to dig right into the how, what and why to ensure you get exactly what you need to set the right starting point.
Deliverables: what happens post-discovery sprint?
Once you've completed a discovery sprint, you'll have a clear direction, strategy and roadmap that sets out the digital product roadmap that's right for your organisation and your users. This work can then act as a brief for a digital product – usually consisting of a strategy document, statement of work and project plan. Put simply, this piece of work supercharges your digital strategy and ensures that your digital project starts off on the right foot.
Let's look briefly at some of the specific deliverables and insights you get from a discovery sprint.
Project scope and objectives
As many as 92% of projects that fail do so because of scope creep. The dreaded scope creep refers to the uncontrolled increase or change in a project's requirements over time, and often results in projects going over budget, missing deadlines, and in the worst case – failure.
The discovery phase helps you focus on the core objectives of the project and the steps required to get there. Anything that is not relevant to the primary goals of your organisation and the specific project can be moved into later phases. At the end of the discovery process, you'll get some high-level project objectives and a list of deliverables for each phase (if multiple phases are proposed).
User personas and journeys
Despite having more access than ever to user data, only 49% of organisations actually use this data to guide their strategy. Analysing existing user data, as well as collecting feedback from your users, can be invaluable in guiding a digital project. Discovery will bring all of this data together and create actionable insight. You'll get a comprehensive list of all of your key users (internal and external), and what tasks they need to be able to complete via your website and/or digital product. This in turn will guide the way in which your digital experiences are designed and developed to make them as useful as possible to your users.
Technical approach and strategy
As we've mentioned, undertaking a discovery sprint with a partner like Adaptable gives you access to expertise around the latest technologies and frameworks that can help unlock more ways forward on your project than you previously thought possible. The discovery process helps us look at your key requirements around functionality, as well as your user personas and journeys, and suggest the best technical approach.
This includes:
How your digital ecosystem/architecture will be structured and delivered
The reasons and benefits behind this approach for you and your users
Detail around any third-party apps and integrations that are required and how these would be managed
Descriptions of specific functionality and features required and how these will be approached technically
A list of components/blocks that are needed
An initial sitemap – page types and templates, and how they will relate to each other in a hierarchical structure/user flow
Digital roadmap
A good digital strategy considers the future as well as the present. Through discovery, you will get a roadmap of what can be delivered in the mid to long-term, as well as the (relatively) short-term. You'll get an idea of realistic timelines and how development will be chunked up across your project. This includes details around how your website/digital product will be initially built and launched with growth and scalability in mind.
Indicative costs
A discovery findings document will include several options for how to approach the project, what's achievable for your budget and what could further be created with future budget allocation. It'll also include detail around any ongoing investment required, as well as additional costs for licensing third-party apps or software. Once we've agreed on a general direction, this will be followed up with a formal statement of work with full cost details and breakdowns.
Summing up
We start each and every digital project with a discovery sprint. It helps us to explore all of the possibilities and client challenges in an accelerated timescale and set out the right digital product and the right approach for building it. Wherever you are on your journey with starting a new digital project, we can help you set off in the right direction.
Discovery is a process which unlocks invaluable insight into your organisation and your digital strategy. A discovery phase will undoubtedly result in a higher-quality, user-centric end product (and less stress!)
Need some help unlocking the way forward? Get in touch to find out more about our discovery process and how it could help you.