20 Nov 2023
Studio
2 min read
Two wins at the Digital Impact Awards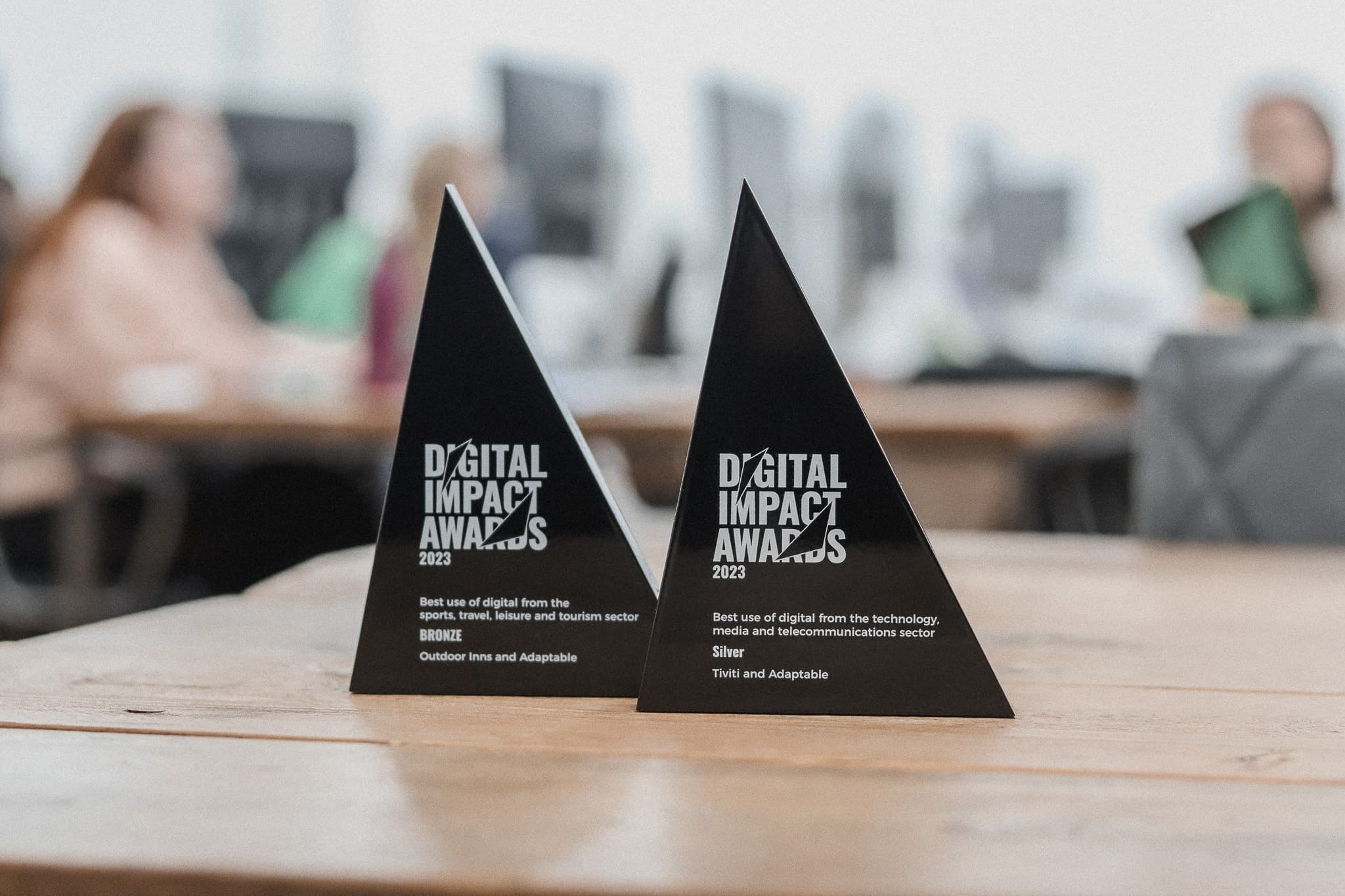 As the days have got shorter and the dark nights are drawing in – things have been looking quite bright at Adaptable…
October was a great month for us for a few reasons, and at the forefront of that was securing two wins at the 2023 Digital Impact Awards. 🎉
The Digital Impact Awards celebrates outstanding digital communications across Europe, and sets the industry benchmark for digital engagement. We were delighted to be shortlisted amongst campaigns and products from household names including AutoTrader, The Royal Navy, Vodafone, EE and Aviva (to name a few).
We were even more delighted to pick up awards in both of the categories we were nominated in:
Silver for Tiviti in Best use of digital from the technology, media and telecommunications sector
Bronze for Outdoor Inns in Best use of digital from the sports, travel, leisure and tourism sector
Needless to say, getting international recognition for these two fantastic projects feels incredible. A massive well done to our team for all of the hard work on them, and thanks to our clients for their collaboration.
More recognition for our projects
Continuing our sweeping of awards season, we were pleased to learn in October that the Karl Tatler website, which we launched earlier this year, has been nominated for "Website of the Year" at the Negotiator Awards. We're eagerly awaiting the announcement of the winners on 24th November, and hoping for another trophy for our cabinet!
Growing our team
In amongst the awards excitement, we've also recently had a number of big project wins and launched two new partnerships. As a result, we're looking to significantly grow our team over the next few months.
We're currently hiring for four permanent roles and one contractor role across various teams.
Permanent roles:
Contractor roles: